Wedding Transportation Detroit
Truly, the best weddings that we have ever attended have had the transportation provided by Party Bus Detroit. We have tried several other party bus companies in the area and we have never been as satisfied with their service. For your big day, we don't feel comfortable recommending anybody to you other than this company! It's just too important of an occasion to trust to just anybody.
We love the fact that they have wedding packges that give you 3.5 hours of service, plus red carpet service and a cute just married sign as well as the happy couple's names on the vehicle! They even provide you with two generous bottles of champagne with ice and cups, and bottled water so you can stay hydrated between drinks.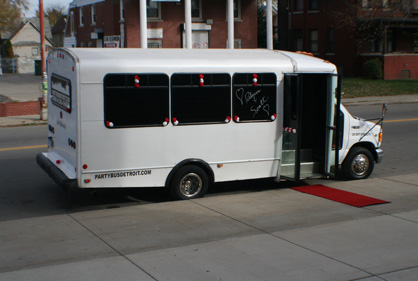 If you're having a bachelor party or bachelorette party, and you purchase transportation from them for that at the same time that you purchase your wedding transportation, you will receive an additional hour of service free! You can't beat that kind of a deal.
You can find out more information about Party Bus Detroit at www.partybusdetroit.com, or call them at (248) 630-5605 for more information. Their office is located at 20759 Sunnydale #2 in Farmington Hills.
If you've been browsing our pages in order, this marks the end of our site. Thank you for visiting Wedding Cakes Detroit, and we hope you have a truly beautiful wedding day!
To return home, click home >>