Detroit Wedding Cake Bakeries
There are certainly a lot of choices when it comes to Detroit wedding cake bakeries! The options range from the more traditional to the most modern, but you'll find that most bakeries that have opened in recent years are capable of doing both traditional and ultramodern wedding cakes. The ones that have stood the test of time for 20 or 30 years are more likely to be able to deliver a truly traditional wedding cake for you. Depending on your style, you may prefer one over the other.
On this page you'll find details about an array of Detroit wedding cake bakeries that we have had personal experience with over the years. We have helped plan many weddings for our friends, and in the process we have visited these bakeries and made arrangements with all of them, and of course seen (and enjoyed!) the final product on the night of the reception!
We believe that if you choose any one of the bakeries on this page, you will have the wedding cake of your dreams. Just remember to be clear with them about exactly what you want. Pictures are worth a thousand words, so if you've got a photo of exactly what you want, or even a montage of several photos that will help them to combine different elements into one amazing cake, then bring it!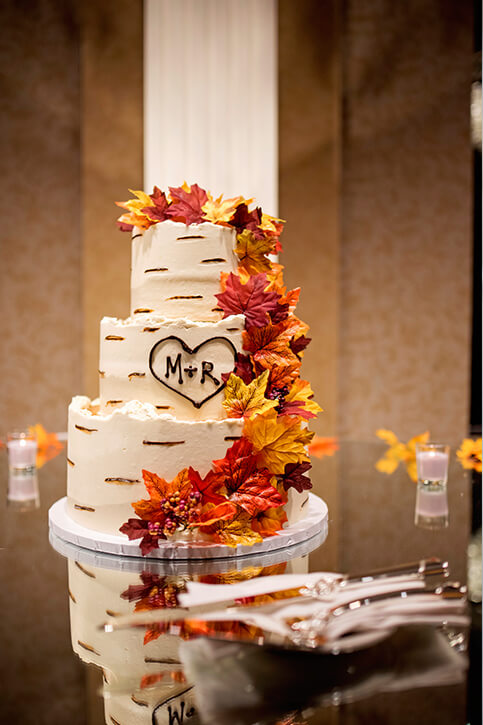 Here are our top choices for wedding cake bakeries in Detroit:
SWEET DREAMS of Warren was rated Best Pastry Shop by the Detroit Free Press three years in a row, and there's no question why! When you see the fantastic creations that this incredible bakery can create, you will understand why all the brides-to-be clamor for this bakery to be their wedding cake bakery! If "one of a kind" is your life's philosophy, and you don't want your wedding cake to be an exception to that rule, you have got to check out the incredible offerings at Sweet Dreams. You can find this tantalizing wedding cake bakery at 3848 East 13 Mile Road in Warren, and their phone number is (586) 751-8900.
MARY DENNING'S CAKE SHOPPE of Westland has been serving the Detroit area since the early nineties, and this award-winning bakery gets one of our very highest recommendations. For beautiful traditional wedding cakes, you simply cannot beat Mary Denning's Cake Shoppe. This is a family run business which only adds to the quality and personal attention that you will receive as a customer. The cakes that they have baked for our friends' weddings are absolutely stunning, and so memorable. The taste, too, is incredible. You can find Mary Denning's Cake Shoppe at 8036 North Wayne Road in Westland, and you can reach this shoppe at (734) 261-3680.
KUTTS PASTRIES of Farmington is the bakery on this list with the most longevity, happily preparing gorgeous wedding cakes for more than thirty years! We can't help but think that if you want your marriage to last that long (and longer!) that it's a great idea to choose a bakery that has lasted that long too. Their specialty is special orders, so no matter what dream wedding cake you've got in mind, they can acheive it. They've also got wonderful pastries that are just perfect for your bridal showers and other special events around the big day. You can find Kutts Pastries at 20974 Larkspur in Farmington, and they can be reached by phone at (248) 705-3422.
It's a short list of recommendations, but we believe those are the best of the best! Again we'd like to stress that we have personal experience with each of these bakeries, and that's why we feel so strongly about recommending them to you. Be sure to keep a list of the ones that you'd like to visit in the months preceding your wedding!
To look at Wedding Cake Designs, click continue >>