Wedding Cakes Detroit is your source for the most beautiful wedding cake bakeries, wedding cake designs, and more!
Thank you for coming to Wedding Cakes Detroit! If you've found your way here, you are most likely about to embark on the most special day of your life... your wedding day. You've come to the point in planning where it's time to choose a wedding cake. And this is certainly one of the most fun parts of the process!
If you've ever helped plan a wedding before, you know that choosing a wedding cake isn't as simple as it may seem! You've got to choose the perfect wedding cake bakery to craft your cake into the vision of perfection that you hold in your mind... and of course there's the part where you actually choose that wedding cake design!
It can be a lot of pressure, but take our advice and just enjoy the decision making process. Remember that choosing the right cake and the right people to bake it are both just expressions of love for your fiance and for all the loved ones at your reception who will share in that delicious towering cake with you! When you think of it that way, the pressure leaves and the fun returns. This should be the most lighthearted part of the wedding planning process.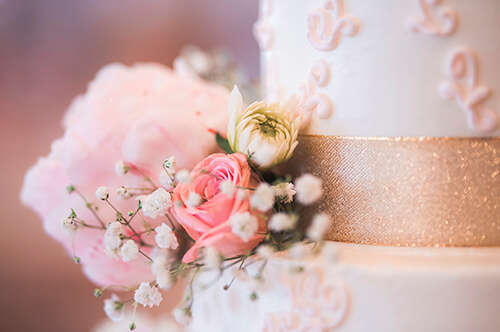 Here are a few tips for making choosing a wedding cake an easier decision:

- Discuss cake flavors with your fiance first. If you want a chocolate cake and your fiance wants vanilla... Well, it's time to either compromise or ask the baker to combine the two ideas! Most bakers don't mind doing a different flavor on each tier of cake. Just make sure you're clear on what you both want before you order anything.


- Be aware of all the exciting new wedding cake flavors that are out there! There are champagne wedding cakes, lemon berry wedding cakes, raspberry laced wedding cakes... you name it, the flavor is out there! Talk to the baker that you've chosen and see if they can whip you up something really one of a kind for your big occasion.


- Realize that some things won't be possible in the season that you're getting married... for instance a mousse or ice cream cake will melt on a hot summer day, and a light airy berry covered cake may seem out of place at a winter wedding. Consider the season when choosing your cake.


- Determine how many guests there will be and then your baker will know how big of a cake you'll need.


- Know that white icing is no longer your only option! Many couples are opting for a chocolate glazed frosting at their weddings, which is a very modern and exciting idea! There are so many options, and wedding white is only the beginning.


- Most importantly, realize that many wedding cake bakeries receive orders six months to a year in advance! Don't try to place your order at the last minute. Give them plenty of time to prepare and your wedding cake will be just as perfect as you've always dreamed.
Ready to look at Detroit wedding cake bakeries? continue >>